You've heard us talk a lot about the man, but did you know his story is where Open Doors began?
It's The Love Of Christ
After Andrew had been wounded in Indonesia whilst he was enlisted in the Dutch Army, he saw something different in the Christians around him.
"One day I asked the nun who came to bathe me how it was that she and the other sisters were always so cheerful," said Brother Andrew.
"Why Andrew, you ought to know the answer to that–a good Dutch boy like you. It's the love of Christ."
He Said 'Yes' To God
He began to read a little Bible his mother had given him before he left for Indonesia. After he recovered, he returned to Holland and gave his life to God.
Brother Andrew was an ordinary man who said 'yes' to God's plan for his life and was led into a life of adventure. At the height of the Cold War, he began helping persecuted Christians living behind the iron curtain of various Communist countries.
Smuggling Bibles Into Romania
When Brother Andrew first attempted to smuggle Bibles into Romania he saw God move radically. "Dear Lord, what am I going to do?" he said as he arrived at the Romanian border where cars were being taken apart and searched. "Any serious inspection will show up these Romanian Bibles right away."
He placed a pile of Bibles on his front seat, knowing full well they were impossible to miss and would only be a miracle from God if he was able to pass.
"I put the little VW in low gear, inched up to the officer standing at the left side of the road, handed him my papers, and started to get out." Brother Andrew said.
"But his knee was against the door, holding it closed. He looked at my photograph in the passport, scribbled something down, shoved the papers back under my nose, and abruptly waved me on. Surely thirty seconds had not passed. I started the engine and inched forward… The guard was waving the next car to a stop, indicating to the driver that he had to get out. On I drove a few more yards. The guard was having the driver behind me open the hood of his car. And then I was too far away to doubt that indeed I had made it through that incredible checkpoint in the space of thirty seconds."
"My heart was racing. Not with the excitement of the crossing, but with the excitement of having caught such a spectacular glimpse of God at work!"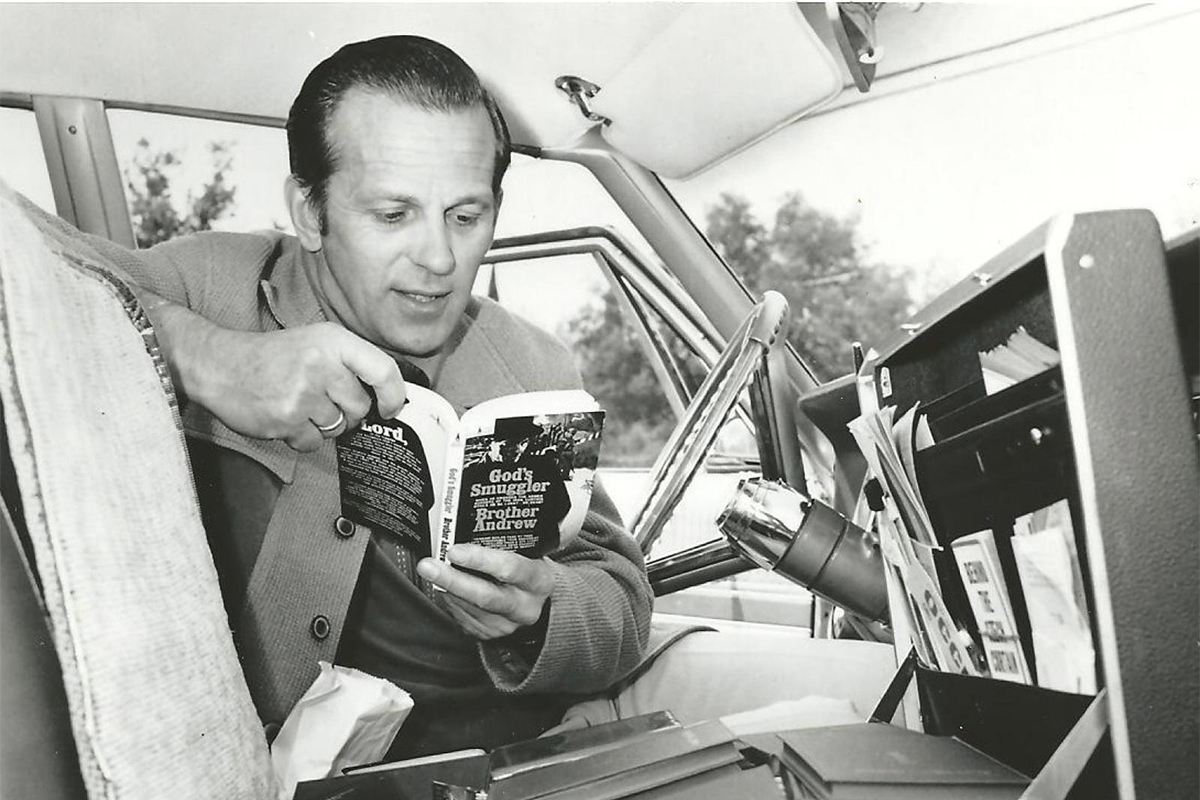 From One Man To The Ministry Of Open Doors
Since Brother Andrew's first trip behind the iron curtain, Open Doors has expanded into over 60 countries around the world, providing Bibles, training, prayer and emergency relief and support for persecuted Christians.
God's Smuggler is Brother Andrew's autobiography and outlines conversion and early days smuggling Bibles behind the Iron Curtain.